I got a lot of stuff done in 2017, but my work is all over the place, so I thought I'd collect up the significant finished pieces and amass them here for the convenience of anyone interested. Many of these pieces were made possibile in part (if not in large part) by my patreon supporters. If you'd like to help make 2018 even more productive than 2017 consider making a small monthly donation through my Patreon page.
While most of the year was taken up grinding away on several big ambitious pieces, the year ended with a flurry of new commissions being started, and one really unique one being finished on a quick turnaround. The image below is an illustration depicting the interesection of Wilshire and La Brea in Los Angeles, as it might have looked about 15 thousand years ago.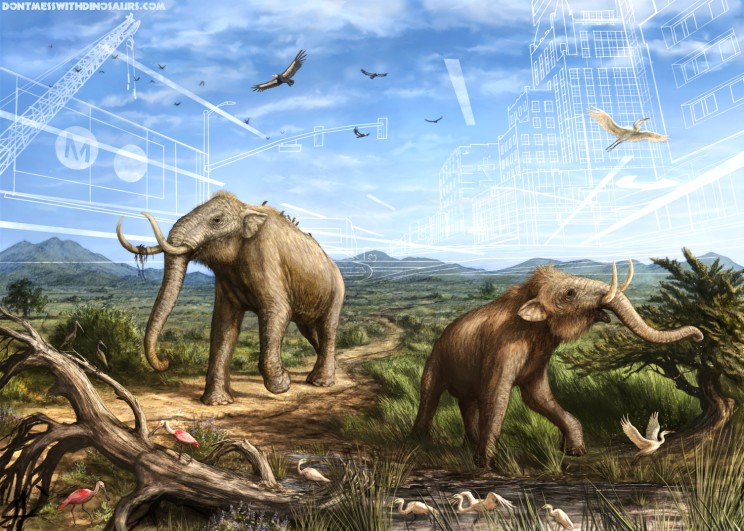 The two mammoths depicted are based on skeletons found 15 feet below the current street level while excavating the terminal for a new Metro system in Los Angeles. The piece was conceived commissioned by Sherri Gust, CEO of Cogstone Incorporated, a leading paleontological and archaeological mitigation company based in California, for her company's holiday card. Because the piece came to me on short notice, I had to act fast, and the entire project went from discussion with paleontologists Sherri Gust, Eric Scott and Ashley Leger, shooting reference of the fossils excavated, to finished rendering in about 2 weeks.
Most of my projects in 2016 were not such quick turnarounds, as this year saw the creation of my two largest paleoart pieces to date. Most recently completed was a 2 foot by 8 foot drawing of the Kayenta Formation paleoenvironment for the Saint George Dinosaur Discovery Site in St. George Utah. The piece is a timeline featuring 3 complex and distinct paleoenvironments over time, with dozens of animals, hundreds of plants, and even climatic changes in the weather.

Here you can see what about an hour of my time working on this piece looks like compressed into about a minute of drawing timelapse:
But this piece is far from finished, as it still needs to be digitally colored, printed, and incorporated into a new exhibit to be installed at the St. George Dinosaur Discovery Site. So, for the time being, the full scan of the grayscale drawing can only be seen by my Patreon supporters.
In addition to attacking big paleoart projects the long overdue final Earth Beasts Awaken video resumed production, and numerous shots for a key sequence are now in the bag.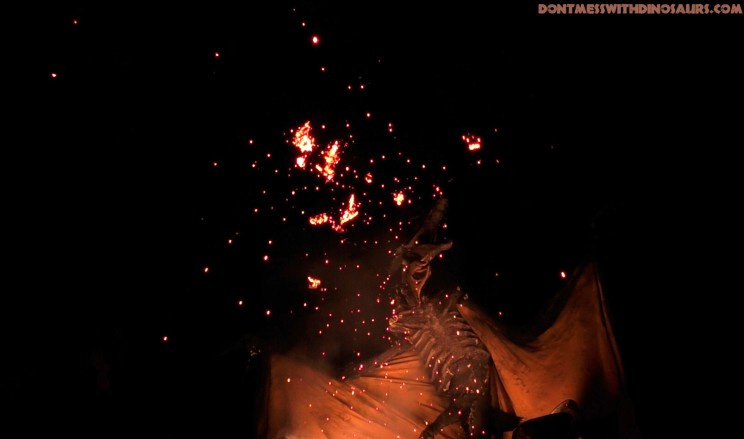 I don't want to give too much away, but an overview of the progress made so far, as well as a few other behind the scenes updates on Earth Beasts Awaken pt 3 can be found on my patreon.
The other major piece I took on in 2017 was a life sized mural depicting two fighting mastodons for the Western Science Center in Hemet California. This was my first piece to be printed and displayed at full scale, and it was my first piece depicting probiscidians. Naturally there was a steep learning curve when taking on both of these new challenges, and again, I documented my progress on patreon and posted an overview here.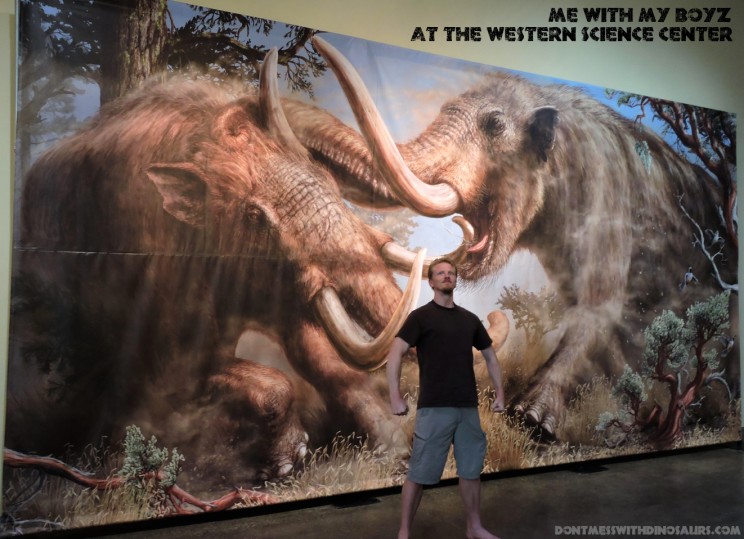 Between the mastodon mural and rendering the Kayenta timeline I was busy with traveling to paleo conferences, meeting with researchers and museums to initiate projects and doing field work. My biggest journey was a huge road trip from southern California to Calgary Canada to attend the Society of Vertebrate Paleontology meeting. I convoyed up to the great north with paleontologists Andrew Milner, Dr. Jim Kirkland and Don DeBlieux, and had numerous adventures along the way and while there. While in Canada I collaborated with paleontologists Brian Gee and Yara Haridy on a quick reconstruction of some strange permian monsters with especially strange dentition, which you can read more about in my post Nightmare Mouths of the Permian.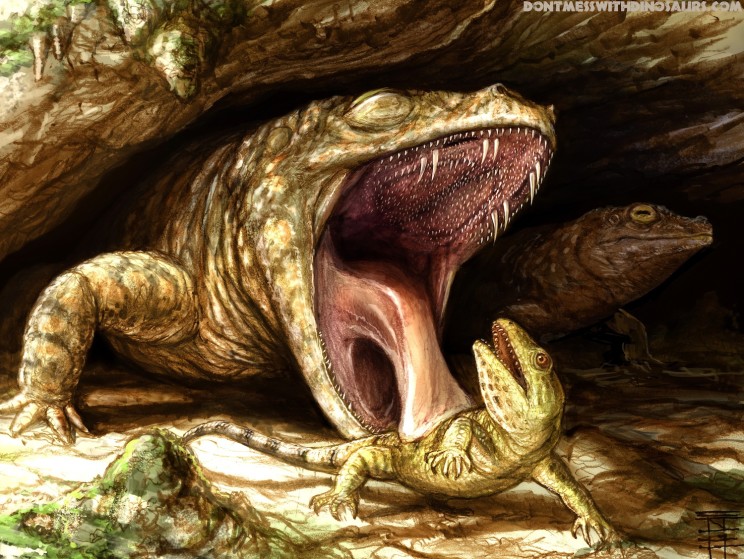 While the initial paper the art was published on focused on the predator – Cacops – we included an easter egg in that the prey featured was Yara's study species Opisthodontosaurus carrolli, which she has since defended her master's thesis on. A paper about its dentition can be found HERE.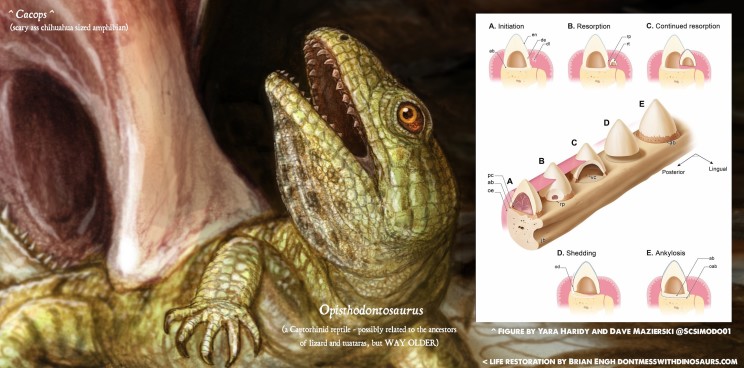 On the way back from Canada I stopped in Utah to assist paleontologists Andrew Milner, Rob Gay and Jessica Uglesich in the excavation of a significant Triassic bone bed right on the border of the Bears Ears National Monument. Despite being under staffed, under-funded and short on time, we managed to extract several huge chunks of stone packed with skeletal material including several significant discoveries and most of a new species just before President Trump downsized several Utah monuments in what amounts to little more than a land grab for the fossil fuel industry and a gesture of disrespect to the previous administration which established the monument. Here you can see a video of us excavating the massive fossil filled jackets:

In the background I've stayed active making new music, and I released a secret playlist of tracks in the works for my Patreon supporters.
I also put out a little video showing my music making progress, as requested by patreon supporters.

I also managed to complete several other videos for my paleoart youtube channel, which I've amassed for your viewing pleasure here:
Also announced in 2017 was that a new ornithomimid – soon to be officially named by ReBecca Hunt-Foster – is the new state fossil of Arkansas. One of several pieces of art commissioned by ReBecca went out with the State of Arkansas press release. More on this creature later…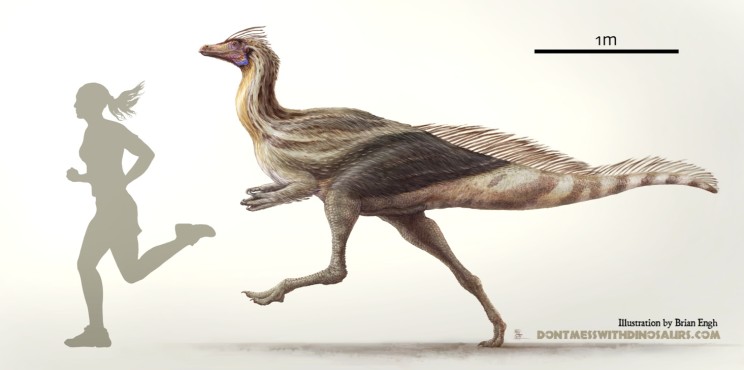 And finally here's a floofy family of raptors squishing through the mud of the Mill Canyon Dinosaur Tracksite that I illustrated for a short film on the Moab area, coming soon to the Moab Information Center. I now have 6 pieces of art on interpretive panels and signage at four public fossil sites in the Moab area, and I will soon be completing more. Hopefully in the coming year I'll find the time to put together a video tour of these fossil sites I've had the good fortune to be able to create paleoart for, thanks to the hard work and support of ReBecca Hunt-Foster.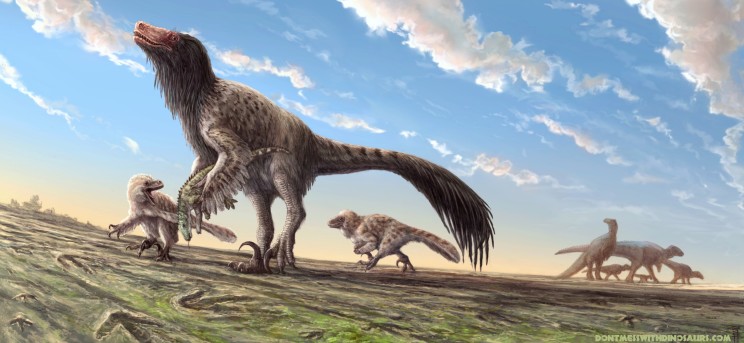 Again I'd like to thank my patreon supporters for their generous support throughout the year. Many of these projects would not have been possible without their support, and I am deeply honored to receive their feedback and encouragement in addition to their financial commitment to helping me make my art. Words cannot convey my gratitude, so I will thus strive to convey my thanks by making 2018 even more productive and creative than years before. Stay tuned. Lots of exciting new projects are already in the works.