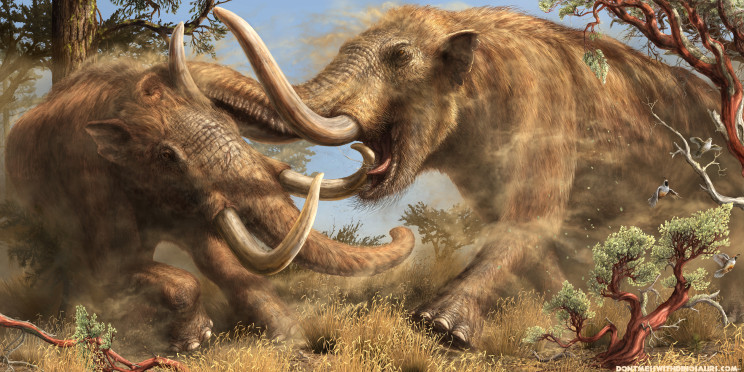 Just last week the Valley of The Mastodons exhibit at the Western Science Center in Hemet CA opened, and it features my first paleoart mural. The mural depicts 2 full sized male Mastodons battling, and the older male on the right is based on the fossils of a Mastodon at the museum named "Max" who has several injuries to the right side of his jaw that are consistent with tusk strikes. The exhibit features more Mastodon fossil material on display than any Mstodon exhibit in the history of Mastodon exhibits and if you're in southern California between now and early 2018 you should definitely check it out. After the Valley of the Mastodon exhibit closes, my mural will still be on display in the main gallery of the museum, right behind Max's mounted skeleton.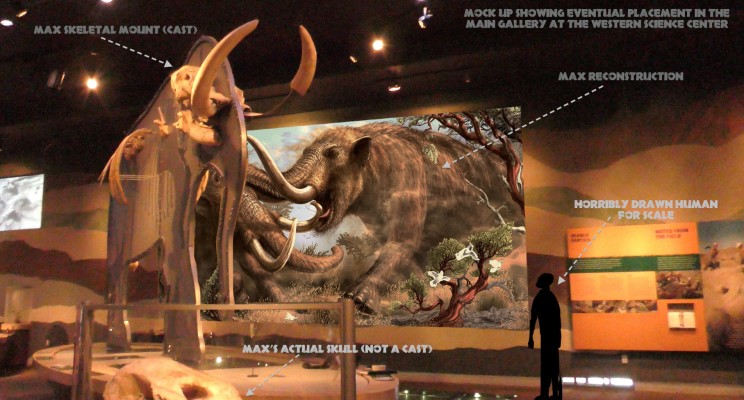 I shot a bunch of reference footage and footage of me drawing/painting this mural which I plan on editing together as a video for my paleoart youtube page as soon as I can find the time.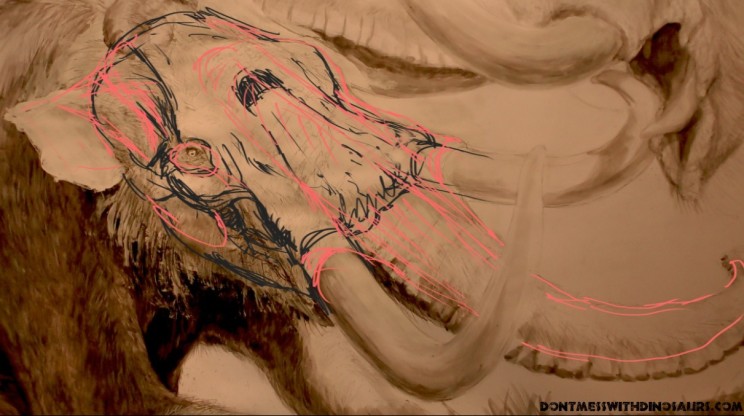 As always, supporting my art on Patreon enables me to do the best job I can on projects like this and also makes doing behind the scenes posts and videos possible, so consider kicking me a few bucks on there if you can spare it and want to help me make the best art I possibly can. As a thank you to my patrons 9″x18″ poster prints of this piece are now available to my top-tier supporters or any supporters who have had my back for a while and haven't requested a free print from me recently. Thanks yall.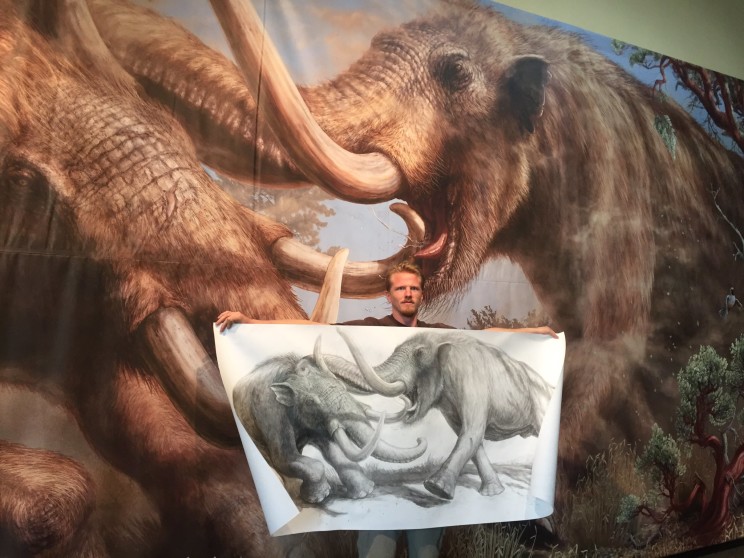 2 Responses to "Valley of the Mastodons exhibit now open"
Valley of the Mastodons | Valley of the Mastodon on 10 Aug 2017 at 6:59 pm #

[…] Dontmesswithdinosaurs.com […]

Science-ing the Scientists and the Other Elephant in the Room: Mastodons! | the Virtual Curation Laboratory on 12 Aug 2017 at 4:34 pm #

[…] central feature of the Valley of the Mastodons exhibit.  You can learn more about his painting here. I spoke about my 3D scanning and 3D printing efforts related to mastodon fossils from: the Western […]
Leave a Reply