I've been meaning to post this illustration for some time. Seeing Mike Taylor's collection of illustrations featuring sauropods smashing theropods on SV-POW reminded me.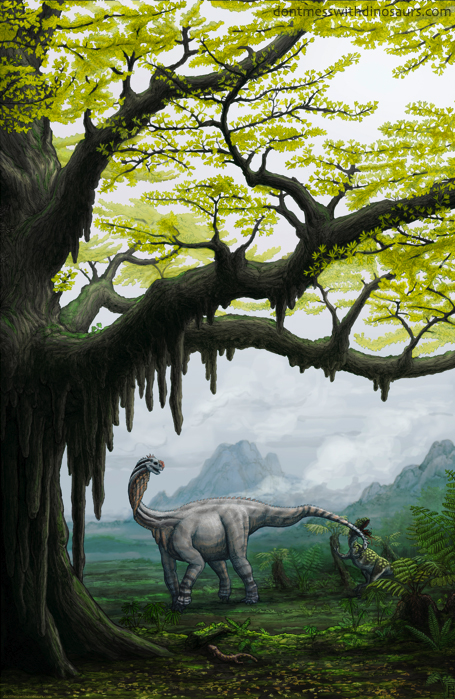 This illustration was also inspired by a discussion about Shunosaurus on SV-POW, which featured some great skeletal reference. Also, Mike was nice enough to clarify the exact structure of Shunosaurus' tail club. It is often depicted with varying numbers of stegosaur-like spikes, when in reality it had some nice bony knobs on the dorsal surface, but no distinct evidence of spikes. I think that makes a lot of sense. Stegosaur tails are relatively short and stocky as compared to sauropods' more whip-like tails. I can envision a stegosaur driving a spike deep into an opponent and then pulling it out, because there's not a bunch of extra slack in the tail to pull strait before the spike is pulled. I imagine a spiky thagomizer on the end of a more whiplike sauropod tail would get imbedded, but would be difficult to remove, as there appears to have been very little musculature towards the end of sauropod's tails. A thick knob of bone on the other hand, would handily deal out blunt-force trauma with less likelihood of entangling its owner with the attacker. That was the idea behind this illustration anyway.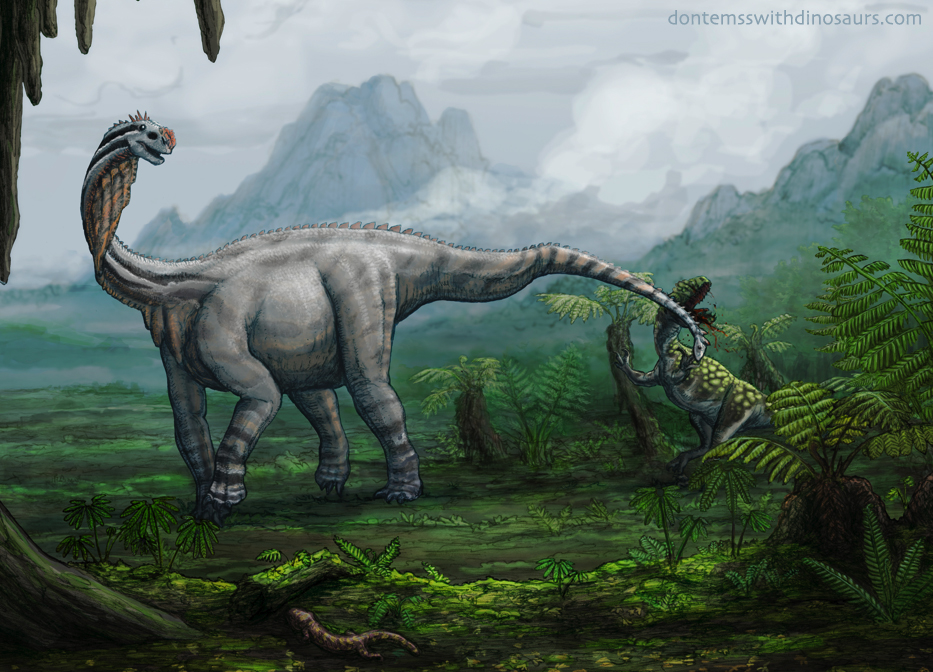 The environment was reconstructed after fossils from the middle Jurassic of China. The Ginkgo is Ginkgo yimaensis, but reconstructed after Ginkgo biloba, which were kind enough to survive into the present so I could reference their beautiful gnarly structures and branch arrangement. The meat eater is some kind of middle Jurassic sinraptorid theropod. I'll refrain from ascribing an exact species because there's a smattering of incomplete theropod remains from roughly the same stratigraphic and geographic range as Shunosaurus, but there is some uncertainty to as which genus/species are legit and which should be consolidated. They're all pretty similar murderous-looking mid-sized allosaurs similar to Sinraptor. Ultimately it doesn't really matter to me what the official literature calls them…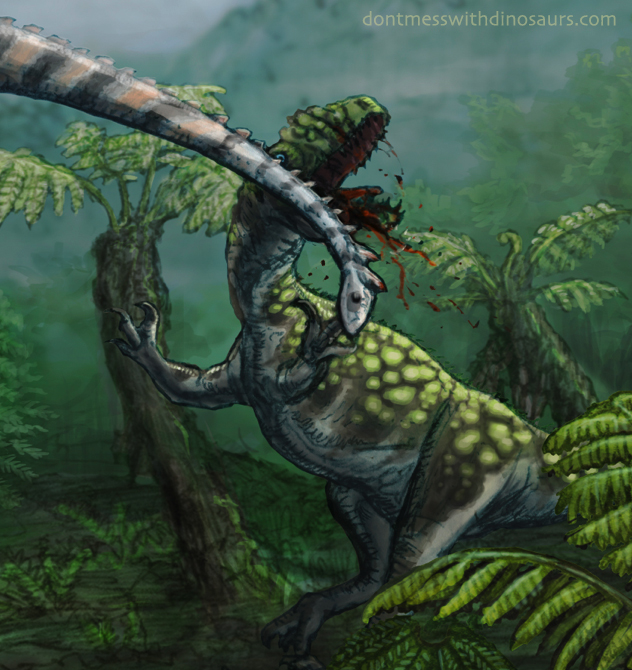 I like them all.